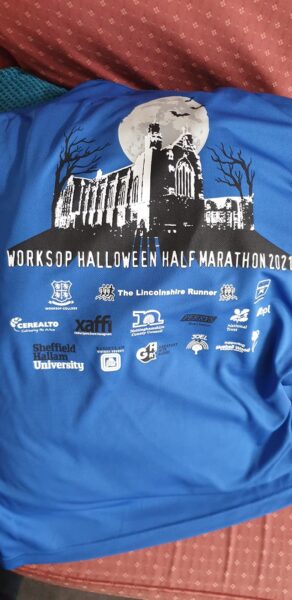 Race date: 31 October 2021
Race report by Jamie Smith
If anyone has ever watched the film Kes, they will know of the quote "It's fierce, an' it's wild…". The same could also spookily be said of weather conditions at the Worksop Halloween Half.
If a horse racing guide were to rate the conditions the going would've been described as "gales, wet and completely flooded in places". The first 10 miles therefore required a determined approach from the 34 Striders registered and tested the assumption: there's no such thing as bad weather, just the wrong clothing.
It was my first time running the Halloween Half, my second race as a Strider, my third race of half marathon distance and the only time I've had to pour water out of my shoes at the end. The extent of water taken on board reflected in having to buy a Sunday newspaper to soak up the excess water. I attracted a few strange looks as I felt the newspapers for their thickness rather than studiously examining their written content (for future reference I can recommend the thoroughly absorbent Sunday Times).
My first experience of the race though was not dampened (excuse the pun) by the conditions, the course was undulating and challenging and the race well organised. The spirit of the marshals were epitomised as I took a drink and the cup collector remarked "don't worry where you throw it, it will float back to me" which reflected their stoic commitment and good humour in challenging conditions.
I did my usual thing of setting off way too quick and paying for it in the final miles. Despite having to slow the pace considerably in the last 3 miles I still managed to shave 3 minutes off my PB which I was very happy with given the circumstances.
As the bright yellow thing called 'the Sun' appeared towards the end of the race, it felt like apt conditions to finish in, proving there is always light at the end of the race. The water, banana and Rocky chocolate bar at the end were also very welcome and the long sleeved shirts aren't bad to boot!
Well done to all!
Striders results: see https://www.steelcitystriders.co.uk/2021/worksop-halloween-half-marathon-2021-report-by-brian-jenkins/
Full results: https://www.sportsystems.co.uk/ss/results/Worksop%20Halloween%20Half%20Marathon/4541